NFN "Conditions for habitable planets" and working group "Star and Planet Formation" (Prof. Manuel Güdel et al.)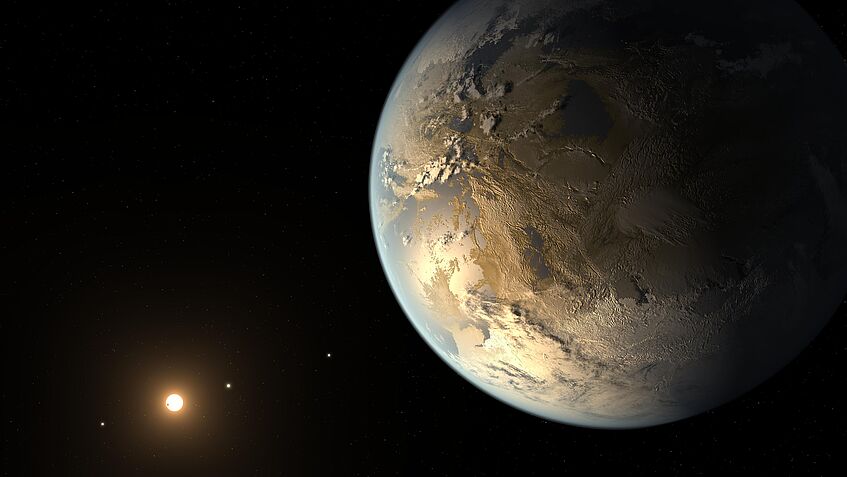 NFN "Conditions for habitable planets" and working group "Star and Planet Formation" (Prof. Manuel Güdel et al.)
The question why life is possible on Earth and not on some other planets is the focus of Manuel Güdel and his Research Group Star and Planet Formation. Co-operating with researchers from other groups and departments, Güdel is studying the astrophysical factors that make planets habitable.
He heads a national research network, for which the Austrian Science Fund (FWF) provides funding until 2020. How do the properties of stars influence planets? Under what conditions do some proto-atmospheres survive on planets, and why do some evaporate? What properties must a planet have to create suitable conditions for life and, in particular, liquid water? And how do all these factors have to interact to finally result in a habitable planet? Their goal is to gain a comprehensive view of the different factors and their interactions using modelling. His team is initially focusing on our solar system – particularly Earth with its neighbours Mars and Venus – as a field of study. In the case of Earth, its mass, insolation and the astronomical architecture of our solar system made life possible. However, the group is also studying extrasolar planetary systems with very different properties.
In another project, Güdel's group is studying the properties of so-called protoplanetary disks – enormous disks of gas and dust that can later form planets. It is important to understand protoplanetary disks in order to understand where planets come from, how they form, grow and create their first atmosphere. The project is funded by the EU, the FWF and the Austrian Research Promotion Agency (FFG).
At the same time, Güdel's group and other researchers at the Department of Astrophysics are involved in a number of space missions.